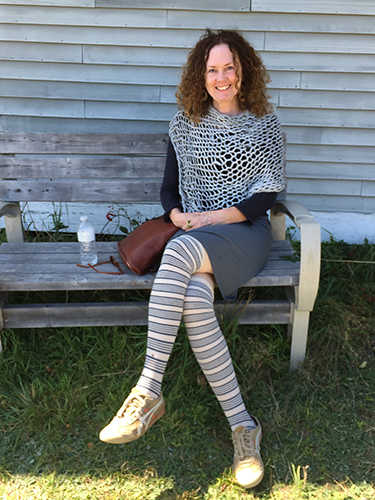 Elizabeth Duffy is a multidisciplinary artist whose current work explores the subjects of surveillance and incarceration and their intersection with domestic life. Her work is influenced by feminist art, interior decoration and craft, and the complicated ideals of home.

Duffy has exhibited widely including at the The RISD Museum. the Milwaukee Art Museum, the Drawing Center, the Aldrich Museum of Contemporary Art, White Columns, Wave Hill, The Islip Museum, Brown University, Dartmouth College, Pentimenti Gallery, Elizabeth Harris Gallery, Nikolai Fine Art, Holland Tunnel Gallery, and DM Contemporary. In 2013, she was awarded a National Endowment for the Humanities grant at the Bard Graduate Center to research American Material Culture in 19th Century New York. She has held residencies at the Bogliasco Foundation/Liguria Center for the Arts and Humanities in Bogliasco, Italy (2012), the Lower Manhattan Cultural Council on Governors Island (2012), the Corporation of Yaddo, where she was awarded the Louise Bourgeois Residency (2010, 2000), the MacDowell Colony (2005, 2004. 2003, 2002), the Vermont Studio Center (1997), and Ragdale (2004, 2003). She is also the recipient of awards from the New York Foundation for the Arts, where she was Felissimo Honoree (2001), the Pollock Krasner Foundation (2001), the Rhode Island State Council on the Arts (2018, 2010) and the Sirius Art Centre in Cobh, Ireland (2015). Upcoming residencies include the Virginia Center for the Creative Arts, Ucross, the Corporation of Yaddo and The Jentel Foundation.

Duffy's work is in the collections of The RISD Museum, The Milwaukee Art Museum, Chipstone Foundation, the Heard Museum, the Smithsonian Institution, Dartmouth College, the Fleet Library at RISD, and in numerous private collections. Her work has been written about in the New York Times, Art News, Art on Paper, the Boston Globe, the Village Voice, and many other publications. She received her MFA from CUNY/Brooklyn College and studied art at the New York Studio School, The School of Visual Arts, CUNY/Hunter College, SUNY/FIT, the Sorbonne in Paris, France and Rutgers College.

She lives and works in Providence, RI and teaches in the Art Department at Roger
Williams University in Rhode Island and in the Graduate Program at Vermont College of Fine Art.